Don't Miss Ohio's Largest Design and Manufacturing Event
Advanced Design and Manufacturing (ADM) Expo in Cleveland returns, showcasing the latest in robotics, automation, plastics, and design engineering. Join 2,600+ professionals from industry sectors such as medtech, aerospace, automotive, and more to discover cutting-edge technologies that can propel your projects forward. No other event in Ohio provides you with top suppliers, networking activities, and a comprehensive conference program.
When: March 7-8, 2018
Location: Huntington Conv. Center
Address: 300 Lakeside Avenue | Cleveland, OH 44113
Registration is Free »
Stop by Booth #325
During your time at the ADM show, make it a priority to stop by Ultra Tech Automation's booth #325. We are featuring the AQIS-LR5 automated inspection cell – fully operational and conducting demonstrations. We are easy to locate – right next to Center Stage.
Featured Equipment
The AQIS-LR5 is an automated inspection cell which simplifies the inspection process. Recently, Production Machining magazine featured the AQIS-LR5 machine as its cover story for the February 2018 issue. Read the article »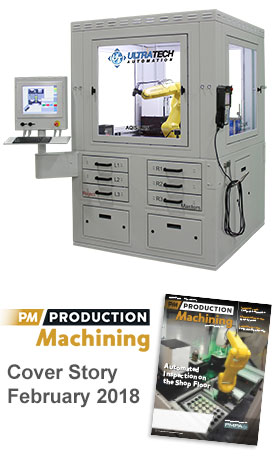 This is the base for all of the show action, every hour. Expand your industry knowledge through free presentations, demonstrations, and expert panels.
Full Schedule »

Access four tracks focused on medtech, battery technology, and smart manufacturing. With unlimited track hopping, you can build a learning schedule to meet your needs. Full Schedule »

Hear from innovative exhibitors as they showcase their latest technologies. Ask questions, get answers, and discover products to engineer into your projects.